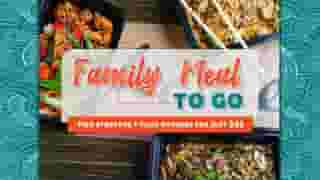 Family Meal To Go - Meridian, ID
For a limited time only, your favorite Asian Fusion restaurant will be offering a special take out offer! Order our special Family Meal To Go and enjoy two starters and four entrees in the comfort of your own home for just $65!

This offer won't last long, so be sure to order today!


STARTERS (please choose two)

CHICKEN LETTUCE WRAPS w/ sweet chili dipping sauce
PAN-SEARED POTSTICKERS w/ seasoned soy dipping sauce
CRAB CRUNCH ROLL w/ eel sauce
KALE CAESAR w/ housemade caesar dressing


ENTREES (please choose four)

GENERAL LING'S CHICKEN w/ sweet + spicy soy
LING'S MEATLOAF w/ red wine-mushroom gravy
NEW WAVE PAD THAI w/ chicken + shrimp
LUCKY LO MEIN w/ fresh vegetables
CASHEW STIR-FRY CHICKEN w/ sesame soy
MONGOLIAN BEEF w/ ginger-garlic soy


**Not to be combined with any other offer, promotion, or discount. Order online at www.lingandlouies.com or call 208-888-5000 to place your order.
Click Here to Order Your Family Meal To Go